Jade Gallery
for Retailers
.
If you are a retailer of jewelry
or other fine products,
this message is for you.
.
---
.
Compact Jade Gallery
by Ruby Zhou
a complete jade store in 2 sq.ft.
professional selection of bangles, pendants and rings
all authentic jade
with a high built-in retail profit margin
*
see our directory
of current successful retail partners
*
---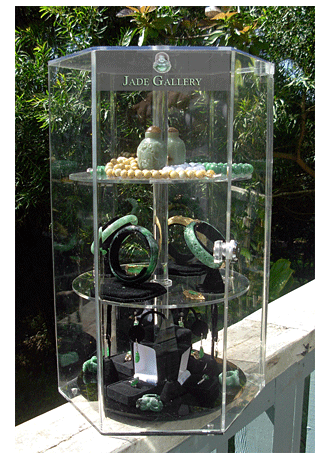 Retailers: Would you like to be in
the highly-profitable jade business?
If you're a jewelry or other fine retailer, you may feel you don't have enough deep knowledge of jade to sell it to your customers, to price it right, to select the best pieces that sell, and to build loyalty.
The upfront investment and risk are too much, for as field you don't know enough about.
That's where the Compact Jade Gallery comes in.
A fine piece of jade can build a loyal relationship with your customers -- it will keep people coming back again and again, for jade and for all their jewelry needs and desires.
Jade is warm, traditional, ancient -- yet always in style. It has proven investment and collectible value, with prices rises steadily over the years, unaffected by the tides of speculation that drive gold, diamonds, silver and other gems. The Chinese Emperors called jade "The Stone of Heaven," as witness to its enduring value.
Meet Jade Gallery Hawaii.
---
For many years, our family business has focused on jade. Our founder, Ruby Zhou, is originally from Beijing China, and has collected some of the finest pieces of jade in the world.
Ruby is a well-known member of one of China's oldest and most respected families -- Zhou. Her family includes renowned Taoist philosopher Zhou Dun-Yi, and the former Premier of China, Zhou En-lai, who is Ruby's great-uncle.
We know jade values, jade suppliers, and jade markets. We are expert at finding the best deals for jade in the markets of the East, where we personally travel and negotiate with jade traders in their own language. We can distinguish authentic jade from dyed and treated, and we understand the artistic and symbolic value of jade carving. We know how to tell the story of jade, to fascinate people with its power.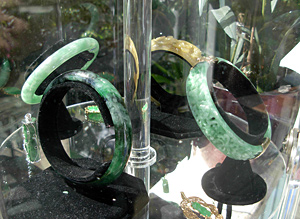 Compact Jade Gallery distills all our knowledge of jade into a compact, sturdy display that will grace the shelves of your store.
---
Here's what's included in the Compact Jade Gallery:
• a selection of jade necklaces and pendants
• a selection of jade bangles and bracelets
• a selection of jade rings and earrings
• small jade sculptures or amphora
All the items are priced wholesale to you, with retail prices tagged on each. You know exactly what your profit margin is on each piece. You get a beautiful enclosure, with branded Jade Gallery signs and brochures. The following items are included at no cost: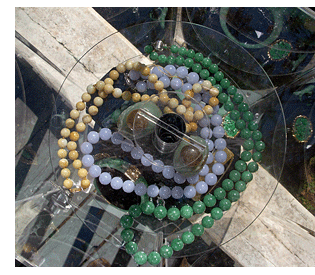 • brilliant, durable display case
• selection of bangle and bracelet display stands; ring boxes; silk pouches
• personal consultation about jade retail with Ruby Zhou in person or by phone to get you started
• unlimited on-call help by phone, to answer your questions and serve your customers
• a one-hour professional training DVD with Ruby Zhou, demonstrating the unique aspects of various types of jade products, giving a tour of Jade Gallery Hawaii; to be used in educating your employees
• a starter supply of brochures about jade, personalized with your store name
• a prominent link for one full year, with your image, on the homepage of jadegalleryhawaii.com
• repeated information about your store sent to our online email marketing list, with over 18,000 customers
All at a very reasonable startup cost, with terms available over several months.
---
Why are we doing this?
Once you have this expert selection of jade in a beautiful display in your store, you will start selling lots of jade.
With the necessary information and instruction, this package will get you started and build our relationship. Your customers will appreciate it, and you will benefit from the new inventory, the attractive display, the new source of high profit margins.
Then you will come back to us with orders for more jade. We're making new orders easy for you, to keep your Jade Gallery Compact full and up-to-date, with a wholesale section of our website.
---
Get Started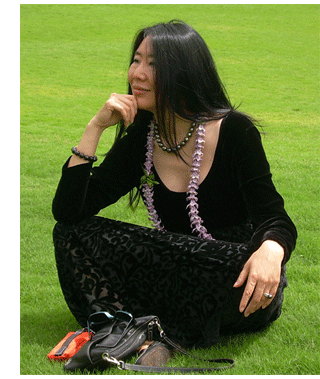 See our directory of current successful retail partners. If you'd like to join them, then you can do one of the following:
1. Talk to us; call Ruby Zhou at 808-282-6196, or send an email to ruby@jadegalleryhawaii.com
2. Make an appointment to see us at your convenience in Honolulu, at our workshop in Chinatown or at our gallery on the beautiful North Shore of O'ahu. We will help with accommodations and other arrangements if you need to travel to us, from outside O'ahu.
3. Click here to fill out a form, which will send us information about you so we can start building a relationship.
It's time to get started in the jade business! If you qualify, we will send you complete confidential information, with details of pricing and terms. In most cases, we can get you set up with your own Compact Jade Gallery within 10 days.
---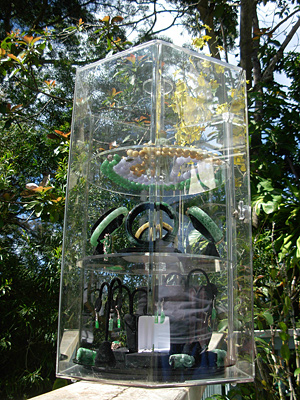 ---