Ruby Zhou


Zhou Xiao-Fang
Specialty Jade Retail; Custom Jewelry Design
Fine Collectible Jewelry Import
Business Communications, America and China
---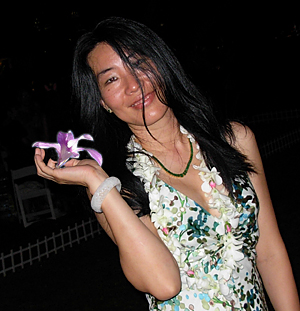 Profile
Seasoned manager with full English and Mandarin skills; extensive experience in consumer and specialty retail, focused on jade; import/export, travel, hotel, tourism; culture and the arts. Journalist, foundation Board member. Commitment to public affairs and the Hawai'i community.

---
Experience
1982 - 1991
Beijing, China: Held several management and marketing positions in the early growth of the China international travel and visitor industry. In charge of organizing international business and diplomatic delegations to China, including those from USA, Canada, Australia, Italy, United Kingdom. Posts included Tienantan Hotel; Jianguo Hotel; Beijing Palace; won many performance awards.

1991-1993
Saipan: Assistant General Manager for a travel and tourism group; daily operations, film showings, restaurant, golf; contracts, sales reports.

1994-1998
Honolulu, Hawai'i: Travel reservations, air and cruise, bilingual translator, interpreter; group travel, tours, focused on Japan and China markets. Negotiation of contracts with vendors, co-ordination with airport, immigration. Posts included Travel Plaza, Skyway Travel, Aloha 7 (Land Operator), and East-West Global Tours (Marketing Director)

2002-2008
Kaneohe, Hawai'i: Founder, president, general manager, Blue Light Hawaii LLC; originated two innovative retail concepts, opened successful stores in the center court of the Windward Mall. Jade & Arts, high-end jade import business, collectable, antique and heirloom; As Seen on TV, consumer specialty items. Both enterprises involve import/export; see http://www.jadegalleryhawaii.com and http://www.asseenontvwindward.com; member of official DBEDT delegation from the State of Hawai'i to China, accompanying Gov. Cayetano to Beijing, 2001

---
Education
High School Diploma, Beijing School 168; College degree from Beijing Tourism College; literature and English courses at Windward Community College, Kapiolani Community college

---
Special Interests
Board Member of Hawaii's leading experimental dance company, IONA Contemporary Dance Theatre (http://www.iona360.com); founder of culture and arts enterprise for China-US peace and understanding; The Bridge (http://www.americachinabridge.com); winner of 2005 Poetry of Forgiveness award, Gold Medal, from the Hawai'i Forgiveness Project; see http://www.hawaiiforgivenessproject.org/awards/poetry-winners.htm; regular columnist (business and Pacific Rim) for Global Woman Magazine, New York; http://www.globalwoman-magazine.com, writing about leading women of Hawai'i

---
Skills
Planning, managing people, communications, Mandarin and English; basic Russian and Italian skills; ability to turn original, creative ideas into disciplined organizations, with strong people skills.

---
References

Jonathan Zhao, president, East-West Global Tours, Honolulu; 808-943-0988
Hou Tianji, manager, Jianguo hotel, Beijing China; http://www.hoteljianguo.com; 86(10) 65002233
Cynthia Ning, University of Hawai'i, Professor, Chinese Studies; 956-2692
Michael North, president of Greenstar Development; 808-638-7100; http://www.greenstar.org

phone 808-282-6196
rubyzhou@mac.com

---